Dating back to ancient China, crossbow technology has advanced more in the last 20 years than in the past 2,000 years. Nonetheless, despite its various advancements, this kind of weapon remains a short-range hunting tool with a maximum range of 80 yards (for a very skilled shooter) or a maximum of 60 yards (for a beginner). In case you're wondering why hunters still utilize such weapons, it stems from the fact that they allow them to deliver a very precise silent shot at close range.
If you're considering purchasing a crossbow in the near future, then our website filled with lots of useful reviews and guides can help you make an educated decision – one that you won't regret once you're out on the hunting field!
Quick Recommendation
---
CenterPoint CP400 Crossbow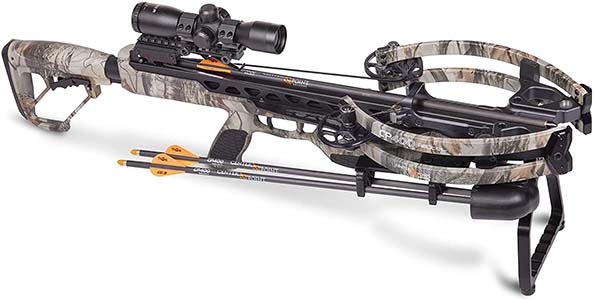 Centerpoint Archery and Barnett have been at each other's throats for decades now. CP400 is a medium-budget hunting crossbow from CenterPoint. This is also another crossbow that can shoot up to 400 FPS.
The build quality of CP400 is excellent. It's a compound crossbow. Meaning it's more compact than a recurve crossbow. You can easily carry it inside a hunting bag. The cam system of CP400 is made out of CNC machined aluminum. Fine quality guaranteed.
CenterPoint uses the HeliCoil system in their crossbows. HeliCoil routes the top and bottom cables away from the cams. Keeping it friction and soundless. You might have heard about this technology already. Ravin uses this in their expensive crossbows. You can guess already how good this technology is.
As I mentioned earlier, CenterPoint CP400 is capable of firing bolts at 400 FPS. CP400 fires those arrows with 142 kinetic energy. The included scope is a 3x32mm illuminated crossbow scope. It's good for both hunting and target practice.
This crossbow is extremely silent. When you fire the bolts at that speed with zero noise, the prey won't see it coming.
---
Ravin R20 Crossbow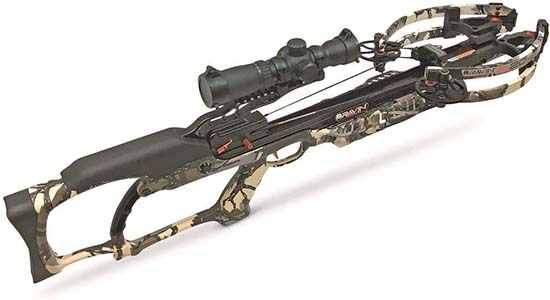 Ravin R20 is one of the best crossbows for hunting on the market. It received the best crossbow of the year 2019 editor's choice award. After that Ravin managed to get nominations and win many reviewer's awards.
This is not a cheap crossbow. It's as good as they can get. Ravin R20 comes fully assembled by the manufacturer. All you need to do is tune the crossbow a bit and enjoy. The accuracy of this crossbow is on another level. The build quality is also excellent. Made from CNC machined aluminum, the stock, and the body is quite durable.
The finish of this crossbow is also quite good. The camo is beautiful to look at. Ravin R20 is also one of the most compact crossbows on the market. Ravin has a smaller version of this compact crossbow too. Known as Ravin R10.
Ravin R20 is capable of firing bolts at an incredible 430+ FPS. With that dead-on accuracy and 430+ FPS. The bolts hit like a truck. You can imagine why hunters love this crossbow.
Ravin R20 uses the famous HeliCoil technology. You can say Ravin invented it and other company licenses it for their use. If you have the money to spend and want potentially the rest of your life with one crossbow. This can be an excellent investment.
---
TenPoint Vapor RS470
TenPoint Vapor RS470 is one of the fastest crossbows on the market. The main selling point of this crossbow is its incredible speed. RS470 can shoot arrows at an incredible 470 FPS speed. That was anti-climactic. Come on manufacturers stop giving spoilers in the name.
The Micro-Trac barrel reduces the string-to-rail contact by over 50%. That increases the longevity of the string and also makes the crossbow more precise.
This crossbow is so accurate that you can nail 3 or more shots on the same whole without any adjustments. Keep in mind the wind direction and speed will play a big role while doing this.
This is the only crossbow that can use the same string for over 1300 shots. And yes TenPoint tested that before claiming this.
RS470 also features silent cocking and ACUslider safe decocking. You can carry a loaded crossbow on your back for as long as you may like.
The EVO-X Marksman Scope is another excellent part of this crossbow. It's one of the best scopes for any crossbow. The performance of this scope can't be compared with any other scope that comes with a crossbow.
If you are paying a premium price, TenPoint will give you a premium value in return. Much like Ravin, this is also a long-term investment. If you want to hunt for years without any problems. I can recommend you spend this much money on the RS470. Without a doubt, this is one of the if not the best crossbow for hunting.
---
Barnett Jackal Crossbow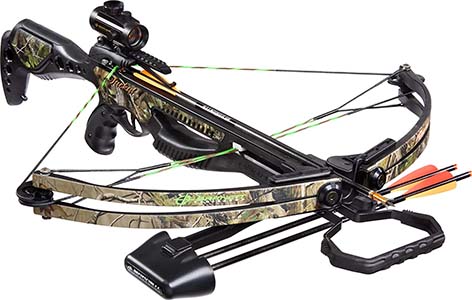 The Barnett Jackal Crossbow is one of the more popular models in the market. The design is based on military camouflage color. It is 32.5″ long and 26.5″ wide. This package includes Jackal Crossbow Quiver and three 20-inches arrows and a single red-dot scope.
It weighs just 7.7 pounds with a draw weight of 150 pounds but can shoot arrows at 315 FPS due to the combination of a Quad Limb high energy wheel with synthetic string and smooth cable system and a smooth 3.5 lbs trigger.
The velocity is fast enough to cause serious damage to the targets. This device also comes with single red-dot scope for higher precision and accuracy. It also comes with Picatinny/Weaver Rail Divided fore grip to give you a comfortable hand placement and an AVi foot stirrup and AVi bolt retainer for easier cocking. This crossbow also has a Realtree Hardwoods finish to make a camouflage effect when used in the arena.
The Barnett Jackal is a great crossbow that will be perfect for both amateurs and novices alike. Oh, have I mentioned that the crossbow is affordable?
Pros
Very affordable
Easy to assemble
Fast and accurate
Beautiful design
High energy wheels
Cons
The package doesn't include crossbow broadheads for hunting and a rope cocking device.
The stock isn't adjustable which poses a problem when you are using it.
The scope functionality depends on the battery, so you need to prepare additional batteries for backup.
---
Ravin R10 Crossbow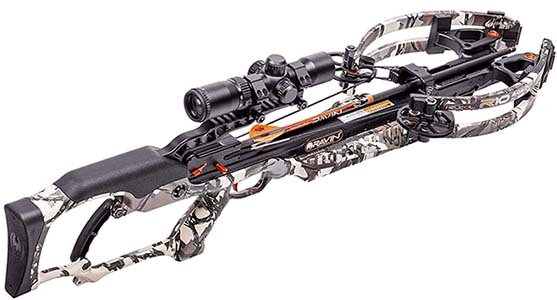 Ravin R10 is the smaller version of the Ravin R20. That's it, that's the review. Just kidding, Ravin R10 is also an award-winner crossbow from 2019. It's the most compact crossbow of 2019 without any doubt. When you cock the crossbow, it narrows down to 6″. That's smaller than most modern smartphones.
How impressive is that! Yet, it has all the features the bigger brother Ravin R20 has. It has HeliCoil technology, it has a 360° rotatable cam system and also includes the incredible 400 FPS top speed.
The key difference between the two is the size. This is way smaller than Ravin R20 in every regard possible. The included scope is the same illuminated 100 yards scope that also comes with Ravin R20.
It's a good scope. Instead of relying on out-of-the-box calibration, try to calibrate this as the first thing. Ravin R10 is not crazy expensive either. But it is expensive. I can assure you this crossbow will last you for years. If you take good care of it, may even last more than a decade.
More than a decade's worth of hunting? Sounds, like a steal to me.
---
Barnett Whitetail Pro STR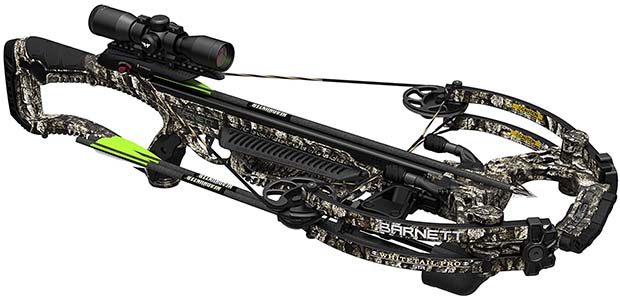 Barnett is renowned for its innovative technology. Each year Barnett has something new and cool to offer their customer care. Whitetail Pro STR was one of them.
Barnett Whitetail Pro is one of the best crossbows under $1000 on the market. It's not easy to achieve a feat like that. It's Barnett we are talking about.
The build quality of this crossbow is quite good. The most impressive part of this crossbow for me is the speed. It can shoot a bolt at up to 400 FPS. Not a lot of crossbows can achieve that feat. A lot of them claim to have 400FPS but struggle to reach even 370.
Barnett kept their promise and delivered an unmatched 400 FPS consistency. The accuracy of this crossbow is quite scary too. To reduce the vibration and make the string silent. Barnett uses sound dampeners in this crossbow.
The draw weight of this crossbow is 187 lbs. I know what you are thinking. You can cut that draw weight by half using a rope cocker. So there is no issue with that. Barnett will give you a 4×32 illuminated crossbow scope. It seems to be standard for crossbow scopes.
I have to admit, it's a quite good scope. Out of the box, calibration was accurate. This crossbow is silent and deadly. Everything you want in a crossbow for hunting.
---
TenPoint Titan M1 370 FPS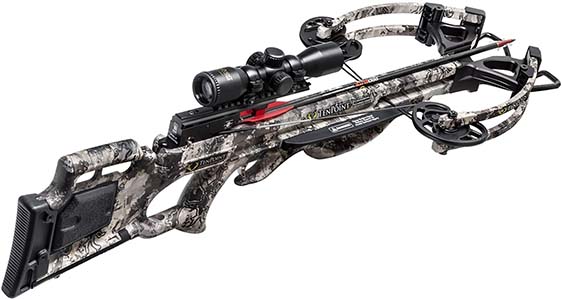 This is the second TenPoint crossbow on our list today. Most of the time the main concern while buying a new crossbow is the draw weight.
The draw weight of M1 is 190 lbs. But you can either choose from ACUdraw or Rope-Sled cocking aid. Depending on which one you choose, the draw weight of this crossbow will come down by more than 80%.
M1 is capable of firing bolts at 370 FPS with 113 FP KE. That much power is capable of nailing even the toughest of animals out there. To target the prey better, TenPoint includes ProView 3 crossbow scope.
Pro-View 3 is an illuminated 3-dot crossbow scope. Meaning you can calibrate the scope at 3 different ranges. Alongside the scope, M1 also comes with 3 x HME Fixed-Blade Steel Tip 100-Grain Hunting Broadheads and a quiver.
One of my favorite parts of this crossbow is the trigger mechanism. It uses a T5 trigger which can imitate a rifle trigger quite easily.
To compress the sound you could add third-party sound dampeners. I understand why TenPoint didn't include that inside the box. It would have increased the price of the crossbow by a lot. And TenPoint wanted to give a good experience to people buying a crossbow for the first time.
---
Excalibur Matrix 355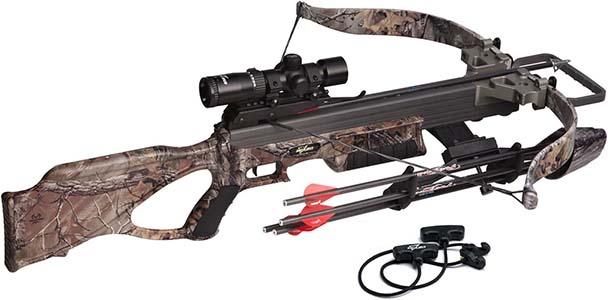 Professionals, no doubt know what it feels like to hold a lightweight yet forceful crossbow that can slay the target in just seconds. They also know that crossbows with such features are no bargain.
A compact, lightweight, and ergonomic recurve crossbow; the Excalibur Matrix 355 is an excellent crossbow that can shoot an apple at a velocity of 355 FPS. The stock and the crossbow as a whole are firm, stable, and very easy to maneuver. Though according to the opinion of many, compound crossbows are way much better than a recurve crossbow, the Excalibur Matrix 355 breaks the juju and proves to be great in every aspect – from structure to performance.
The crossbow is designed so well; the stock has an ergonomic design that makes gripping comfortable. It is lightweight – so light it only weighs 5.4 lbs, approximately 2 kilos but not heavier than 3 kilos. The crossbow also shoots powerfully with 240 lbs draw weight.
One of the minor drawbacks of this crossbow is having a price that is much higher than other competing brands with almost the same features. But if that does concern you, this crossbow will just do fine for you.
---
Killer Instinct Hero 380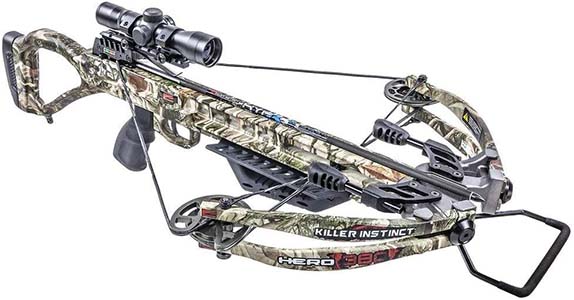 Killer Instinct Hero 380 is another fantastic crossbow for hunting. The Hero 380 is also a budget-oriented offering from Killer Instinct.
Killer Instinct Hero is one of the lightest crossbows on the list today. This weighs merely 5.8 lbs, while most other crossbows' weight is over 6.5-7 lbs.
The trigger weight is a bit more than Killer Instinct's usual pattern. The draw weight is also on the higher end. But you can always cut that off by half using a rope cocker.
You will find sound dampeners built into this crossbow. The sound is almost inaudible. Thanks to that the string will last longer too. As for speed, Hero is capable of firing 20″ bolts at 380 FPS. Their claim is quite accurate. If you test it out in a place with a neutral wind, you can easily reach 375-380 FPS every single time.
The accuracy of Hero is also quite good. One might say, you can be the Hero by using this. Okay, I admit that was terrible. But this crossbow isn't. It's one of the best hunting crossbows on the budget.
---
SA Sports Empire Hellhound 370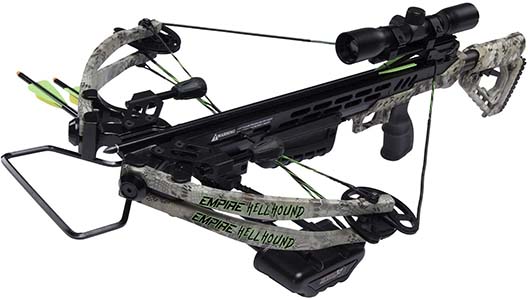 The SA Sports Fever Crossbow is a lightweight device at just 4.85 pounds so it is suitable for beginners or smaller-built people. It is 31″ long and 27″ wide and equipped with a 26.5″ string. The limbs are made from compressed fiberglass for a nice finish and come in a Dipped Camo design.
The package includes a 4×32 multi-range scope and four 16" arrows. 20" arrows are also available for this model however but must be purchased separately. It has a scope for improved vision when aiming at prey.
In terms of performance, this crossbow has a draw weight of 175 pounds and can shoot arrows at 240 feet per second. It also comes with a cocking device and shoulder sling for easier carrying. This device is designed is also designed to be ambidextrous so left- or right-handed people can use it comfortably.
Pros
It is very lightweight, so you can easily bring it around without getting tired.
It comes together with a cocking device and shoulder sling so you don't have to invest in additional accessories.
Cons
The arrow velocity at 240 FPS is weaker than most and may not be suitable for shooting larger animals.
---
CenterPoint Pulse 425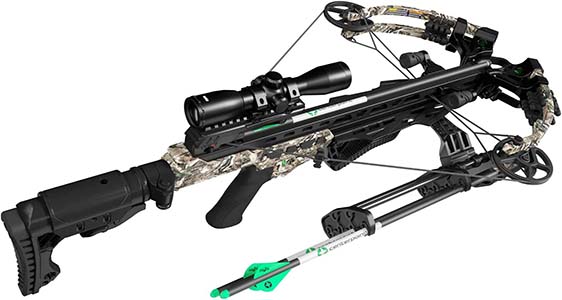 CenterPoint Sniper 370 is one of the most loved crossbows on the market. The pricing of this crossbow makes it super hard to pass on. Unlike many other knock-off brands, CenterPoint Sniper is capable of firing bolts at 370 FPS. The consistency is also good and highly accurate.
The foregrip and stock of this crossbow are fully customizable. The rail of this crossbow is made out of CNC machined aluminum — one of the most durable and preferred materials for crossbow rails.
To make the crossbow silent and deadly, CenterPoint includes noise dampeners pre-built into the crossbow. The dampeners do an excellent job. It reduces the vibration of the crossbow by a lot too.
If the target can't hear you firing, it can't escape. That's why hunters love this crossbow. It is also a complete package. It includes a quiver and a set of arrows made by CenterPoint.
The scope on top of the rail is a 4×32 illuminated crossbow scope. Pretty standard stuff. Fortunately, the performance of this scope is above standard. That's why you don't need to change the scope asap. You still should, but won't be your top priority. I want to end it by saying, CenterPoint Sniper 370 is one hell of a crossbow for hunting.
---
BearX Intense Ready to Shoot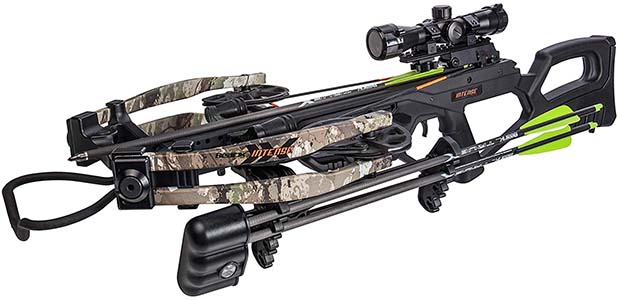 The final crossbow on today's list is from BearX. Is the BearX capable of taking down a Bear? Let's find out. BearX Intense comes fully pre-assembled inside the box. You don't need to fine-tune anything before you start going Rambo on the range.
Intense is also a compact compound crossbow. After cocking the bolt, the width of this crossbow is only 10″. Which is the same as an Ipad. You can carry it on your back without any issue.
Intense comes in two different finishes. Depending on which color you like, choose that one. Both of them will come with a set of arrows made by BearX. They will also include a quiver and a rope cocking device.
To keep the string waxed and smooth, you will also find a lube inside the package. Don't throw it away, use it when the rail becomes dry. It will smoothen out the contact and make it more silent.
The illuminated scope is also calibrated from the factory. I recommend you calibrate your own. But if you are a newbie and just want to shoot and enjoy the hunt. You can use it without calibrating.
As for speed, this is where the BearX shines. Intense is capable of firing the bolts at an incredible 400 FPS.
To answer the question from earlier, BearX Intense can take down a bear. There is no doubt about that. You can guess why we included it on the list.
---
Things to Consider Before Buying a Crossbow
In case this is your first time shopping around for a crossbow, then take note that this is going to be a difficult decision. In general, the best way to determine which model is right for you will mean trying it out by yourself. If you're shopping online, then you should make time to visit a specialized shop where you can handle a version similar to the one you're ordering.
There are several aspects to account for before buying a crossbow. Because it is a lethal weapon, the most important thing is safety. In this regard, the auto safety engagement and the anti-dry fire device constitute critical features. Remember that if you dry fire your crossbow, meaning you shoot without an arrow loaded, then there's a chance the limbs and stings can crack, potentially causing injuries to your face and arms.
Here are some other aspects to consider in addition to safety features:
The type of bow that best suits your needs
Draw weight
Velocity
Power stroke length
The weight of the crossbow
Scope sight
The types of arrows and bolts
Compound vs. Recurve Crossbows
Although there are numerous models available on the market, in the end, it all boils down to two main types, namely compound and recurve crossbows. Often described as the modern variant of crossbows, the compound weapon can be easily identified via its shorter and sturdier limbs. These two critical features determine professional hunters to point out that the compound crossbow is more energy efficient. The compound crossbow presents the following advantages:
It is considerably faster at lower draw weights
It requires less force on the trigger sears
And it is more powerful than its recurved counterparts due to the faster speed of the bolts
It features a simpler cocking device
It is overall more narrow and hence, it's more efficient for areas with dense vegetation
Despite all these advantages, take note that a compound model incorporates a higher number of moving parts that wear out relatively easily. Therefore, if you intend to use it frequently, you will also have to dedicate sufficient time to maintenance. In addition, compounds are a lot noisier and heavier, especially if you account for the density and associated weight of the bow's frontal section.
At the opposite pole, the recurve bow is one of the oldest and most simplistic designs applied to these weapons. Recurve crossbows can be identified via their distinct appearance featuring a tip that is curving away from the shooter. Its limbs are bent to ensure a longer draw weight, which in turn accelerates the projectiles.
The design does not only reduce the shock you feel in the hand, but it also generates less noise while shooting. On a side note, less noise does not mean you should expect it to be 100% silent; you will hear a clatter when you shoot a recurve model. Besides being less noisy than its compound counterparts, the recurve presents the following advantages:
It doesn't require extensive maintenance, thus making it a perfect choice of weapon for long hunting trips
It weighs less than a compound, making it easier to carry around
The lighter weight also makes it easier to aim quickly
It is easier to restring, unlike compounds that require you to use a bow press to fix a broken string
The main drawback of a recurve model is that it doesn't feature a cocking device and hence, it will require some physical strength on the part of the user. In addition, you shouldn't expect too much power or accuracy from a recurve weapon. Furthermore, due to the wider design, the recurve demands more draw weight for the same arrow speed.
Whether you should opt for a compound or a recurve crossbow is a matter of preference because both models include features the other does not have and vice versa. Then again, if you're a beginner and this is your first crossbow, it would be wise to opt for a recurve model because it's lighter and easier to manage. Moreover, due to its simplistic design, a recurve is simpler to use in the sense that you won't have to figure out how to operate it when you are in a tough spot. On the other hand, if you are an experienced hunter who prefers a strong, forceful weapon, then perhaps a compound model is more suitable for you.
Draw Weight
Draw weight is a term that refers to the force required to cock the crossbow, a force that is typically determined by the rigidity of the limbs and prod. In general, the higher the draw strength, the harder it will be to pull the string and, as a direct consequence, the deadlier the shot. In case you intend to use your bow for target practice or other recreational activities, then the draw weight is not really relevant.
On the other hand, if you want to use your weapon for hunting, then it is recommended to select a model with at least 150 pounds draw weight. After all, when you're hunting you want to make sure that you're actually killing your prey, not just wounding it.
In general, for recurve crossbows the draw weight will increase the farther back you pull the string. In this case, the bow will reach its maximum draw weight when it is fully cocked and in a locked position. Due to its design, compounds will reach a peak draw weight and then drop it to the holding weight; take note that the holding weight is usually up to 30% of the draw weight. However, high-performance compound crossbows are capable of maintaining the peak draw weight longer during the draw cycle and hence, store more energy and deliver faster projectiles.
Granted, the draw weight is the direct indicator of the type of speed you can expect from a particular model. However, let's not forget that not all bows are created equal, meaning that there are two other critical factors that determine how fast your weapon will shoot an arrow. These two factors include the shape of the cams and the power stroke. The cams, particularly their shape, directly affect the draw force curve, which is a measurement of the draw weight at a particular point in the power stroke. The power stroke refers to the distance a string can travel between the point where the bow is at rest to the cocking position point, but more on that later on.
Generally speaking, crossbows are considered weapons that can be effectively maneuvered by just about everyone, regardless of age, gender, size, and physical ability to bow hunt. However, considering that some of these bows come with draw weights of around 200 pounds, you will have to account for your physical limitations. Luckily, manufacturers have started including various cocking devices to aid you in drawing the crossbow. Nowadays, you can choose between three methods to draw your crossbow, meaning:
Manual Cocking: As the name suggests, manual cocking entails placing your foot in the stirrup and pulling the string back manually. While this method has the benefit of simplicity, you will need an adequate amount of physical strength to cock your crossbow.
Rope Cocking: The rope cocking mechanism is a pulley system designed to give the shooter a 50% mechanical advantage. Even though it allows you to cock a bow using half the force required, the setback of the rope cocking method is that it's time-consuming and inconvenient in most situations.
Crank Cocking: Featuring a small hand winch, the crank cocking device permits you to stock the crossbow by winding a small handle. The obvious advantage is that a crank cocking device makes drawing 150 pounds seem like a walk in the park. However, take note that these mechanisms are expensive and that they add extra weight and bulk to your crossbow.
Bolt Velocity
Velocity refers to the speed with which the projectile is going to travel for the first 20 or 30 yards. On a side note, after this short distance, the bolt velocity will start to decrease. Velocity is measured in feet-per-seconds and, if you're going to use the crossbow for hunting purposes, you should pick a bow with at least 200 FPS. Then again, if you're serious about hunting, then a 300 FPS model is what you should be aiming for. Not only does this velocity ensure the arrow drop is small enough, but the kinetic energy is sufficiently high to guarantee the necessary accuracy for taking a target down from up to 50 yards away.
While you might be tempted to believe that higher velocity is an indicator of a better, faster weapon, in reality, the measurement is relative. First off, the actual velocity is determined by the draw weight as well as the weight of the projectiles you intend to use. Therefore, at least in theory, a lighter bolt will travel faster than a heavier bolt shot with the same model.
Even though velocity is pretty easy to understand, you should be aware that the measurement is usually relative, as it mostly depends on the testing methodology and the arrow's total weight. To put it simply, some manufacturers do not adhere to the same testing standards when it comes to determining their crossbows' speed. While some specify the details of how their arrow speed data is obtained, others do not. It is wise to avoid investing in a weapon that doesn't include this type of information.
Power Stroke Length
As previously mentioned, the power stroke length is a measurement that refers to the distance a string will travel from its loose position until it reaches the latch and gets into the cocking position. In general, crossbows available on the market have a power stroke between 10 and 14 inches, a higher value indicating a higher stroke and a more powerful shot. Without denying the importance of the power stroke length, the value should not be the most important criterion in your decision. Let's not forget that what really matters in the power stroke is that it is properly adjusted for the draw weight.
In case you are wondering why manufacturers don't make a longer power stroke on all crossbows, then the answer is the design of the weapons. Because crossbows tend to be heavier in the front, having an excessively long power stroke means it will become increasingly difficult for you to move the bow further out in front. Therefore, it will become harder to aim with it, making the weapon less ideal for hunting.
Take note that the only effective way to extend the power stroke on the crossbow – without diminishing the weapon's hunting capabilities – is to incorporate the reverse draw technology method to increase its balance. In case you didn't know, the reverse draw technology means that the riser of the bow is mounted behind the string, an aspect that allows for string to be pushed further down the barrel. Considering that when you shot, you are transferring the weight of the crossbow towards its middle area, the weapon becomes heavier in the front and it balances better.
Weight of the Crossbow
More often than not, hunters prefer to invest in the lightest crossbows available. Without denying that a light crossbow will be convenient while you're out in the woods, keep in mind that a weightless weapon is harder to keep steady and maneuver while aiming. To put it simply, having a little bit of extra weight will automatically increase your aim as well as your steadiness and precision.
A further reason why purchasing a heavier model is advisable stems from the fact that the extra weight makes the weapon sturdier. Therefore, you can be certain the crossbow won't break down due to extensive usage.
In order to select an appropriate weight for your weapon, first, you will have to consider its primary use. After all, crossbows can be employed for other activities than hunting. In case you're purchasing it for fun or target practice, then the weight and the size of the weapon are irrelevant. In fact, if the weapon will be stationary, the size and weight of the crossbow will not be an issue at all.
On the other hand, if you're investing in a weapon for serious hunting, then opting for a model that is neither too heavy nor too light is your best bet. While it's true the weapon will feel cumbersome during a long hunting excursion, a heavier crossbow will be more suited for your hunting needs. In the end, it is advisable to test or operate the weapon for a while and choose one that is fairly easy to maneuver.
Scope Sight
Even though you can still find open-sight crossbows on the market, the truth is that you would be better off with some sort of a scope sight. You have three options when it comes to scope sights, namely:
Pin and Peep Sights
Found mostly on base model crossbows, the pin, and peep consist of an aiming point mounted at the front end of the crossbow, usually on the riser itself. The device also includes a peep sight bridge that is fastened at the rear of the bow. The peep sight can be made of plastic or aluminum and has a hole in it that allows you to look through it, at your aiming point. The mechanism also includes a series of adjustable pins that permit you to mark the distance; alternatively, you can use the pins to move the point of interest to the left or right.
The Red Dot Scope Sight
Available in two models – the single red-dot and the triple red-dot sights – the scope is the next step mechanism from the classic pin and peep style. The preferred scope sight of experienced hunters is the three red-dot sight, as it allows them to better judge their actual distance from their target. The top dot is used for targets at around 20 yards, the middle one aims at 30 yards, and the lower dot is for targets located at least 40 yards away. As far as the single red-dot sight scopes are concerned, you will have to make sure the dot is aligned with the target and adjust the distance according to your experience.
Optical Scopes
As you probably already guessed, optical scopes are more advanced than the aforementioned sights. Similar to red-dot scopes, they are available in two variants, namely single and multi-reticle, which serve the same purpose. Unlike the red-dot scope, the optical sights are superior, include numerous accessories, and have an overall better quality, some even comparable with the scopes commonly employed in rifles.
The best types of optical scopes are those with a single-tube design, mostly because they don't include multiple parts and have a lower chance of breaking. These optical scopes allow a magnification between 1x and 5x that can include water and fog-proof screens. If you're purchasing a crossbow for hunting purposes only, then it is best to opt for a scope featuring additional illumination dots. The extra illumination sources will not only make it easier for you to hit a target in poor lighting conditions but will also allow you to hunt during the nighttime.
Arrows/Bolts
Although lighter projectiles fly faster, keep in mind that reputable manufacturers recommend a minimum grain weight bolt for optimal use with their crossbow models. Shooting lightweight projectiles put unnecessary stress on the components of your crossbow, causing them to break or fail and placing you at risk of personal injury. Therefore, it is highly advisable you inform yourself and use the correct arrows and/or bolts. On a side note, sometimes shooting with other arrows than the ones indicated by the manufacturer can void the factory warranty.
The crossbow arrow is made of aluminum or carbon, has a length of around 20 inches, and consists of the following parts:
The head – refers to the part that is typically fastened into the insert at the front of the shaft. Arrows are available with field point heads and broad heads, the latter including sharp edges, and are mostly used for hunting. The point heads don't incorporate sharp parts and can be used for small game hunting as well as target practice.
The shaft – represents the elongated body of the arrow.
The insert – refers to the round pull-out that is attached to the front of the arrow shaft. The inserts can be made of aluminum, brass, or both metals.
The nock – is the small part affixed to the rear of the arrow shaft. Made from plastic or aluminum, the nock comes into contact with the string when you cock the crossbow. Nocks are available in a half-moon style or can be flat. A half-moon nock includes a small groove that makes it easier for you to align the arrow horizontally with the string before you take a shot.
What Makes the Most Accurate Crossbow?
For someone who is about to buy a crossbow, you try to test out different crossbows and check their prices. Now, what would be the very important aspect or key to a crossbow when it comes to hitting a target? That's right, accuracy. And the accuracy of a crossbow cannot be determined by trying to assess its features and details written on the box.
You cannot also take it out of the store and test it out because it is not allowed. If you happen to come across a crossbow on some marketing website, you're less likely to have a chance to test it. Now how can you determine if what you chose is the most accurate crossbow or at least have a nice level of accuracy?
The path to figuring out the accuracy of the bow does not end after your purchase. There is also the commitment to have the crossbow maintained by cleaning, tuning, lining, using the scope, and identifying your range.
It is important for a person wanting to engage in the art of hunting and in the field of archery to conduct minor or intermediate research before buying. Know what you want and study the features of the crossbow you aim to have. There are things that you should consider in order to have in your possession the most accurate crossbow.
Things That Can Affect Crossbow Accuracy
Correct Arrows or Bolts
Depending on the power and length of the crossbow, you should adjust the arrows or bolts you want to use accordingly. Read the manual included because manufacturers sometimes suggest the proper length and weight of the bolts ideal for the power and length of the crossbow.
The stabilizers, the draw weight, and the power of the crossbow can help balance the bolts as you shoot making your shot more accurate. Otherwise, no matter how much you aim, you won't come close to hitting your target properly.
The weight and the length of the bolts are also highly important and require common sense. Never use a large, heavy, and long bolt for a short crossbow, and expect it to shoot the bolt accurately.
If you are going to buy extra or spare bolts other than what was included in your crossbow set, make sure that it is in the size and length recommended by the product's manufacturer to achieve the highest point of accuracy.
The Crossbow is Not for You
No matter how expensive, how cool it looks, or how many features the crossbow has, there are just some cases that won't be the right one for you. Given an example, a skinny and small person won't fare very well with a long and heavy crossbow.
Regardless of how expensive the crossbow is, stable, and with nice power, your arm and hands will tire fast and will most likely affect your handling and the accuracy of the crossbow. A short person will also have a hard time trying to get good aim if the crossbow is too long for his or her arm.
Crossbow Components
A crossbow's accuracy can also be affected by how tight or how loose the parts of the crossbow are. It can be, in some cases that the bow's limbs and string are too tight making your shot a little stiff or too loose, cutting the power and accuracy close to half.
A loose scope can also have an effect on your accuracy. Make sure that the scope is tuned well and secured nicely on the top before and after your hunt.
You should take note that consistent use of the crossbow, cocking, and shooting, can eventually loosen up some parts. Always do proper maintenance and try to tighten up the loose parts so that you can expect great and high performance.
Tuning and Maintenance
Strings, as we all know, stretch over time. A stretched string will affect the power, velocity, and accuracy of the crossbow. You need to do regular tuning, especially for a person who takes too long to aim.
The prolonged aiming will greatly hasten the stretching of the string because of the fact that when you aim, the crossbow is already cocked and the string is already pulled back.
When it comes to maintenance and cleaning, this is also done occasionally or when going back after a long day of hunting. Certain substances or stuff get stuck somewhere in your crossbow from crawling through mud, climbing through rocky terrain, and running through tall grass. This can greatly affect the integrity of your bow which could result in lower performance and accuracy.
Using the Right Scope
This is fairly self-explanatory or requires minimal common sense. When buying a scope for your crossbow, make sure to use various scopes according to the maximum range and use of the crossbow.
No matter how expensive and high-end your scope is, it won't make the crossbow shoot accurately within the intended range of the manufacturer's design. Given that the range of the crossbow is only accurate at a distance of 50 yards, buying and setting a scope that is only accurate within 30 yards would be pointless.
Crossbow Range
The crossbow has an intended range where it can shoot accurately if you and your target are within those ranges. Always check the crossbow's specification written by the manufacturer in the manual or on the box.
Expect that when you step out of that range, you will have a great chance of missing your target. Although it is hard to determine the measurement from where you stand and where your target is, your estimation skills will improve through time, hunting, and shooting.
The most accurate crossbow also depends on its user. You cannot tell just by how expensive or fancy the crossbow is. There are many things that can greatly affect the accuracy of the crossbow and the price is not even close to being included.
Provided that you're considering those things, inexpensive and affordable crossbows can hit a target accurately, the same as expensive ones.
Conclusion
In the past few years, crossbows have been gaining popularity in hunting and recreational activities alike. In case you intend to acquire a crossbow in the near future, then don't forget to account for all your hunting or recreational needs before reaching a decision. Because some crossbows are more difficult to maneuver than others, it is highly advisable to select one that satisfies your requirements and that is on par with your physical abilities. And you can find out just that on our website from our reviews so have fun learning!